Mrs. Schmidt's Story. Johann Schwandt and his wife Christina with their five children, their son-in-law John Walz, and a friend of the family, John Frass, started in May, 1862, from Fairwater, Fond du Lac county, Wisconsin, with their household goods, provisions, two yokes of oxen, a few cows and some calves. After an overland journey, which occupied more than a month, they settled on Middle creek in what is now Flora township.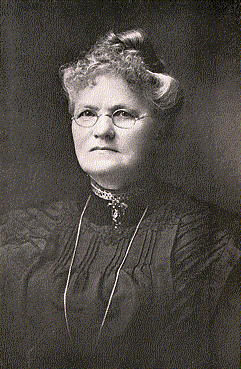 I was then a girl of fourteen and my brother August was ten years of age. We walked the entire distance, driving the stock and picking flowers by the wayside, and when we were tired we would stop and rest and let the cattle eat. Our dear mother would cook the meal and spread the cloth on the grass, and we would all sit around and enjoy the meal more perhaps than the king in his palace eating from golden plates and drinking from crystal glasses. The land which my father settled on was in the wilderness of the Minnesota river bottomlands and the grass was tall and coarse, and the cattle did not like it, but there was no other. My father chose this place because there was timber there, and the first thing the men did was to hew down some trees and peel the bark off of them. They then built a log cabin of two rooms, and, as at first we had no doors, they put blankets at the openings, and covered the roof with grass and bark. After a few weeks, when father went to New Ulm to do some trading, he bought some doors and windows and also shingles. I accompanied him to do some shopping for my mother and sister. It took us four days to go and come back, it being about forty miles from where we lived and traveling with oxen was very slow. After we had some doors and windows in our cabin we lived quite comfortably. The men started to break up the land and cut some hay on father's place, and as both Mr. Walz and Mr. Frass had taken a claim up on the prairie they all went up there to break the land, and all were happy and contented, but it was not to be for long.
By this time the Indians has started to become troublesome. They would come in parties of six to eight and beg for something to eat, for they were always hungry. Our family was a large one and mother could not give them very much, but I remember she always gave them bread. However, it was meat they wanted, and that we did not have very much of ourselves. There was another great pest that bothered us greatly. Our cabin was built about forty feet from the timber that I spoke of, and in this timber there were thousands and thousands of wild pigeons, keeping up a constant cooing from the break of dawn until nightfall. I do not know what has become of them, for they seem to be all gone. I think they left when the country became more settled.
My parents had been on their farm about two months when that most terrible day, the eighteenth of August, came. Out of eight persons there was only one left to tell the story. At noon when the family were just about to eat the noon meal, a party of Sioux Indians came and soon all was over. August, ten years old, was struck on the head with a tomahawk and was left as dead. In the night he revived and crawled into the tall grass and reached the fort. He still has the scar on his head. He now lives in British Columbia, at Vancouver.
About three weeks before the outbreak Legrand Davis came to our house and wanted to know if I would go over the river to Joseph B. Reynolds, who kept a stopping place. He wanted a girl to run errands, dust and so forth, and as they were going to start a school for the Indians I could go to this school at the same time. I needed more schooling and though this a good chance to acquire it. Mother did not like me to go, but Mr. Davis promised to bring me back in two or three weeks, so she reluctantly gave her consent. Little did I think that it was the last time that I would see her dear face on this earth. The Reynold's treated me very kindly, more like their own child than a servant, and I liked to live there. After I had lost my parents they wished to adopt me, but I went to live with an uncle in Wisconsin, who also took my brother August. The eighteenth of August came on a Monday. We had just had our breakfast at the Reynold's and Mary Anderson was just putting on the wash boiler preparing to do the week's washing. Suddenly John Mooer, a half-breed, came running in and said we should all get away as fast as we could, for the Indians had broken out and were killing all the settlers as fast as they could. Mr. and Mrs. Reynolds got into a buggy and drove off, and Mattie Williams, Mary Anderson and myself got into a lumber wagon with three men that had stopped over night at the house. The team belonged to Mr. Patoile, a Frenchman, who hauled goods for the government from one agency to another. The wagon was filled with things they wanted to save, so we started, Mr. Patoile driving the team. We drove from seven in the morning until four in the afternoon, and were about eight miles west of New Ulm when we met a party of Indians. We all jumped from the wagon and ran, but we did not run very far before they were upon us, dragging us back. By that time they had killed all the men and some were scalping them. Mary Anderson was shot through the abdomen and died on the fourth day after the shooting. My clothes were riddled by the bullets, but none harmed me. A skirt which I wore has seven holes shot through it and is now in the possession of the D. A. R. at their museum at the Sibley house, Mendota. This skirt was made of heavy muslin and was part of the cover of our wagon when we settled in Renville county.
When we came back to the wagon the Indians had already broken open all the trunks and were dividing the contents. They had with them about twelve other wagons and a great number of horses. The wagons were loaded with plunder of all kinds which they has stolen from the settlers. They ordered us into the wagons and started back to the agency. It was about ten o'clock by the time that we reached Wacouta's home. It was very dark and there was a tallow candle burning. The house was swarming with Indians. Wacouta chased them out and told us to hide up in the loft and he would bring us water and food in the morning, and we were up there three days and two nights. The wounded girl cried for water, for she had a raging fever. During the second night Mattie Williams and I crawled down and went to a corn field, getting some green corn with which we tried to quench her thirst. On the third night we were told to come down, and were taken to Little Crow's village. Mary Anderson died during the night. Mattie Williams' captor took her to his tepee, where he lived with his squaw, and as my captor had no tepee he said he would kill me to be rid of me. When Snana, one of the Indian squaws heard this, she came and looked me over carefully and went away, returning in a short time leading an Indian pony, which she gave my captor, and then took me by the hand and brought me to her tepee. I was adopted into the tribe and had to call her mamma, and she dressed me in Indian clothing and made pretty moccasins for me. She wrapped me in a snow-white blanket, which was, of course, stolen, but it did not stay white very long. Snana was married to Good Thunder and had two papooses. I had to take care of the baby papoose. I always tried to do all she told me and to please her in all things. There was a bond of sympathy between us because she had just lost her oldest daughter.
After seven weeks of captivity I was released at Camp Release by General Sibley and his army, with the rest of the white prisoners, and as that occasion has been written up so many times I will not mention it here. Mattie Williams was a niece of Mr. Reynolds and was visiting from Ohio. She was highly educated and had a beautiful character. Mary Anderson was a pretty Swedish girl and was to have been married soon to a young man from Shakopee. I was only a plain little German girl who did not know much at all at that time. My Indian mother parted from me at Camp Release and we did not meet again for thirty-two years, but have met many times later, and I received many nice letters from her. She loved me very much, and I have always felt a gratitude towards her which I could not express in words, for she saved me from a terrible fate when she bought me from my captor with her only pony. -- By Mrs. Mary Emilia Schwandt Schmidt.
Mary Emilia Schwandt was born in the district of Brandenburg, near Berlin, Germany, in March, 1848, daughter of John and Christina Schwandt. In 1858, when she was ten years of age, the family came to America, and after a brief stay in Canada, located near Ripon, Wis., where they lived about four years. In 1862 they came to Minnesota in two wagons drawn by oxen, journeying up the beautiful Minnesota valley and settling above the mouth of Beaver creek, near Middle creek in what is now the town of Flora. There John Schwandt took up a claim, and built a log house which he covered with a good strong thatched roof made from the tall, tough, dry grass of the Minnesota bottoms. His land was all in the valley or bottom, extending from the bluff to the river. At that time the family consisted of Mr. and Mrs. Frederick Schwandt, a daughter Caroline, aged 19, her husband, John Walz; a daughter, Mary Emilia, aged 14, and three sons, August, aged 10; Frederick, aged 6; Christian, aged 4. John Frass, a young man lived with them. John Walz had selected a claim and was preparing to move to it the next fall.