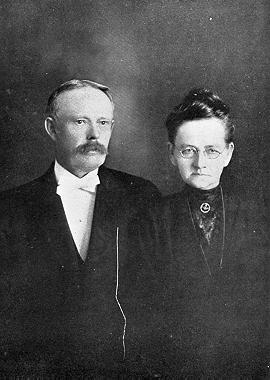 Rev. and Mrs. Parelius H. Rognlie

Rev. Parelius H. Rognlie was born near Trondhjem, Norway, December 21, 1858. He attended the public schools in his native land for about four years. In the spring of 1870 he immigrated with his parents to the United States and lived in Houston county, Minnesota, one year. In the spring of 1871 he moved to Lyon county, Minnesota, at that time a wilderness, and with his parents went through all the hardships of the pioneer days. The next year most of the homestead land in the town of Lucas was taken up and a year or two later a school was organized which he attended. August 8, 1876, he, with thirteen others, was confirmed by Rev. Thorstenson in the Grove of Hellek Glaim on the Yellow Medicine river, there being no church in that part of the country. His pastor and others urged him to go to college and take up the study of the ministry, but on account of lack of means and also on account of his father's poor health, he decided to stay at home for a time and help his parents. In 1881 he entered the preparatory school at St. Olaf's college, Northfield, Minnesota, and later attended Luther college, Decorah, Iowa, earning his way by teaching school and doing farm work. In the fall of 1885 he went to Europe in order to receive treatment for his eyes and was operated on at the State Hospital in Norway. When he returned to the United States, he resumed teaching and continued his studies by himself. In 1888 he was admitted to the Luther Theological Seminary, Minneapolis, and graduated June 26, 1891. In February, 1891, he was called as pastor for the Fort Ridgely, Dale, Palmyra and Clear Lake congregations, Renville and Sibley counties, Minnesota. On July 22, 1891, he was ordained at Fort Ridgely and Dale church by Rt. Rev. K. Bjorge, assisted by Rev. S. J. Bergh, Rev. N. P. Xavier, Rev. Thomas Johnsen and Rev. B. Askevold. He has remained at this place ever since and now serves Fort Ridgely, Dale, Concordia, Clear Lake and Morton Scandinavian Evangelical Lutheran congregations and every other month he serves Camp and Fairfax Norwegian Lutheran congregations, alternating with Rev. Thomas Hanson. He preached the first Norwegian Lutheran sermon in Bird Island, September 16, 1891, and organized the church there. He preached the first Norwegian Lutheran sermon in Fairfax December 10, 1893.

June 13, 1895, he was married to Ronnaug Marie M. Gullerud and they have had the following children: Ingolf Herman Marentius, born March 26, 1896; Katharina Josephine, born December 26, 1897; Parelius Monrad, born January 28, 1900, died July 2, 1901; Palma Margrethe, born April 8, 1902; Clarence Parelius Monrad, born May 6, 1904; Julia Christine, born October 4, 1908. Among those who have made their home at the parsonage may be mentioned Christian Blichfeldt and James George Thompson.